Pizza Near Me Since 2008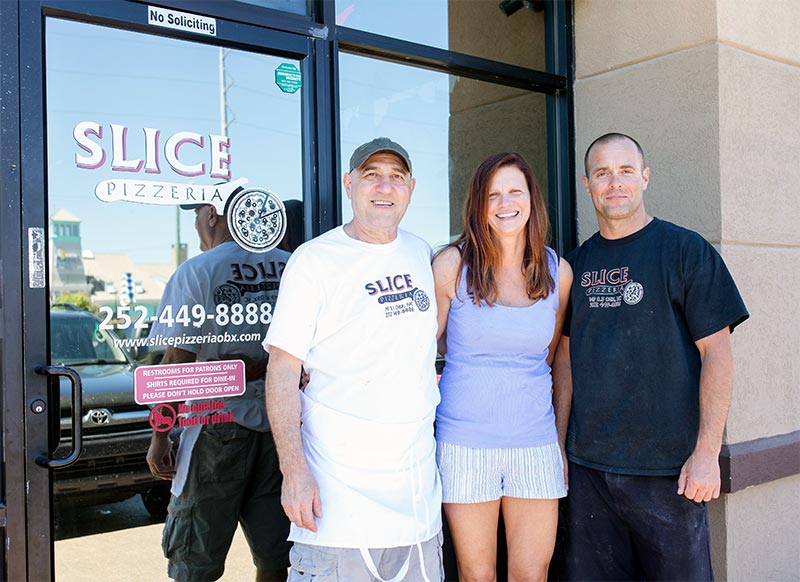 Dough, Sauce, Cheese and Commitment
We started Slice Pizzeria in 2008 with the idea of bringing the best pizza possible to the Outer Banks. Not only did we want to bring the best pizza to the Outer Banks, but we also wanted to build great relationships with our customers and our community. As a result, this past year we were voted by TripAdvisor to be the Best Pizza in North Carolina in 2018.
A Passion for Excellence
Since we opened in 2008, the number of pizza restaurants on the Outer Banks has grown quickly. We think this is a good thing because well, pizza is a soul food and people love it. So do we. If you google "pizza near me" you will see the many different places that make pizza on the Outer Banks. You will find us as always in our Kill Devil Hills location, doing what we love to do – making great pizza, using the best ingredients, providing excellent customer service and giving back to the community. That has been our recipe from the start, and we stay true to our vision. We love pizza, people, and our community.
Giving Back to the Community
We believe in the idea of "what goes around comes around," and we truly believe in giving back to the community that supports us. We donate and raise awareness for animal shelters, health organizations, and local sports teams. Pizzas are round, and so is the circle of community support. You might say this principle is at the core of what we do. So, the next time you are googling "pizza near me," think of us here at Slice Pizzeria. We are holding it down, slinging great pies and making people smile with our Triangles of Gold – one slice at a time, one pie at a time, one customer at a time, one community at a time.