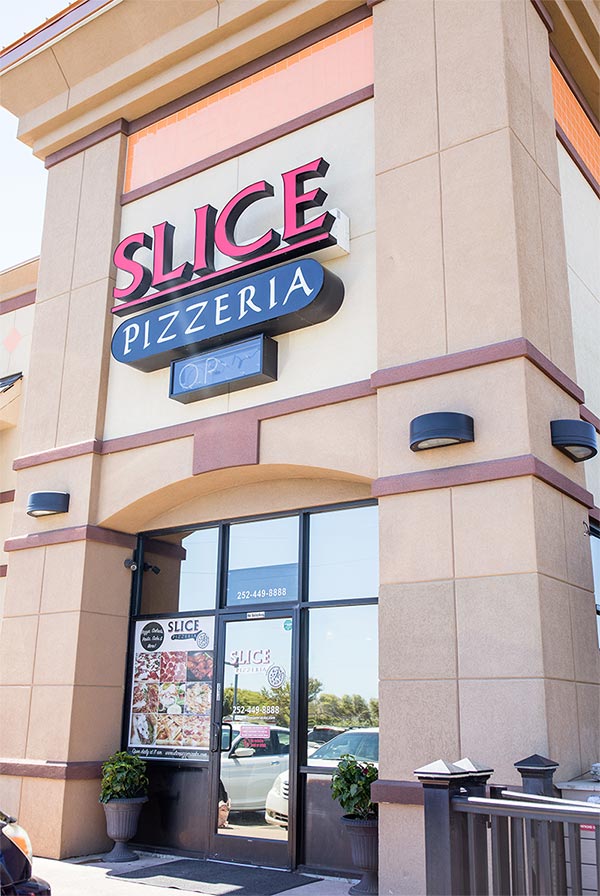 Voted
Best Pizza In Town
Our hand-tossed, deck-oven pizzas are always made from scratch with fresh ingredients making them a neighborhood favorite. 
Slice Pizzeria was voted best pizza place on the Outer Banks in 2013, 2014, 2015, 2016 and 2018. 
TripAdvisor in 2018 voted Slice Pizzeria #1 in the state of North Carolina. 
Our mission is to create a profitable restaurant with an exciting atmosphere, superior food, and exceptional service where people truly enjoy coming to eat. We are also proud to provide a safe, healthy, and rewarding workplace for our employees. 
At Slice Pizzeria we believe in using nothing but the best ingredients. Our foundation is solid; homemade dough, sauce derived from scratch, and Grande cheese, as our pizza requires the best cheese! We bake these prime ingredients in our decked stone ovens. 
Giving Back
A supportive OBX Community
The delicious food, upbeat atmosphere, and smooth daily operations at Slice are the result of three individuals and their hard work to bring only the best to the Outer Banks community. Rick Amodei, Jeremiah Stewart, and Elizabeth Cubler have focused on pushing Slice to its fullest potential for the past eleven years, all the while giving back to the community that supports their business. Slice is a sponsor of programs such as local athletic teams, OBXSPCA, American Cancer Society, local community events, and OBX National parks. Slice has become known as a supportive and giving business.
In 2015, Slice began developing programs to help give back to the Outer Banks community that shows year round patronage to the business. In 2015 & 2016, Slice donated over 1,000 pounds of food to the Beach Food Pantry. Since, the business has raised over $5,000 for local families and individuals in need, and donated thousands of dollars for local organizations such as Outer Banks Community Foundation, OBXSPCA, Surfing for Autism, and others. The partners are passionate about the community they live in. 
About
The Owners
Slice is an individually owned Pizzeria on the Outer Banks of North Carolina. Slice is comprised of three diverse partners that have banded together to create a locally renowned OBX pizza shop.
Rick Amodei brings his family's Italian heritage and "secret" family sauce and recipes to the table- literally. Rick is a key player at Slice who is often hidden behind the scenes creating the pizza magic you have grown to love.
Jeremiah Stewart possess the strong interpersonal skills that are an asset to help navigate day to day tasks, changes and complexity in our business dealing with customers and employees.
Elizabeth Cubler is the financial manager that analyzes and presents data, working the budgets to ensure the Outer Banks Pizza company is growing and meeting its goals.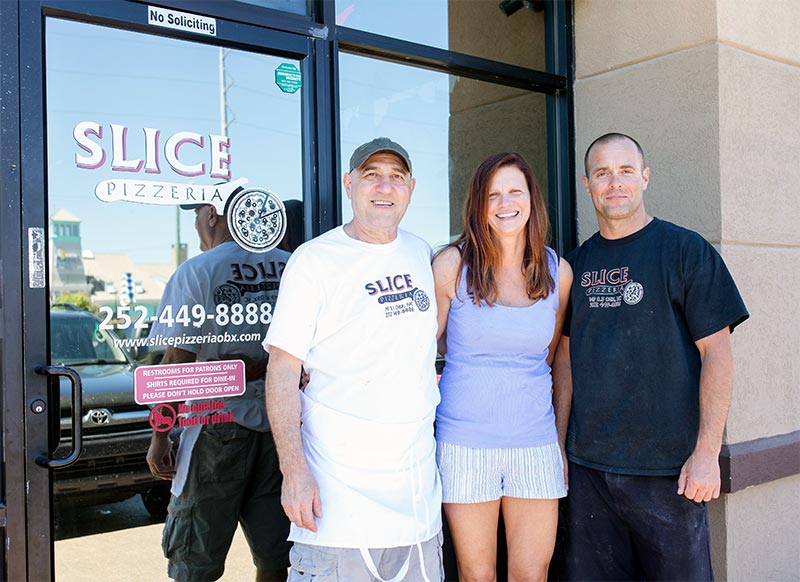 Those at Slice Pizzeria always work hard, do their best, and never cut corners.  We believe that a key to business success is standing out from the competition. To satisfy our customers with top quality ingredients, we emphasize flavor authenticity over being "all things to all people." We believe in using nothing but the best ingredients and giving exceptional service.
Carry Out
Or Delivery
Place an order online, call, or walk in and walk right out with an order to go. If you'd prefer your pizza be delivered to your Outer Banks doorstep, this option is available starting at 5 pm. We've got all bases covered so you can enjoy the best pizza on the OBX whenever and wherever you like!